FILMING IN PALAU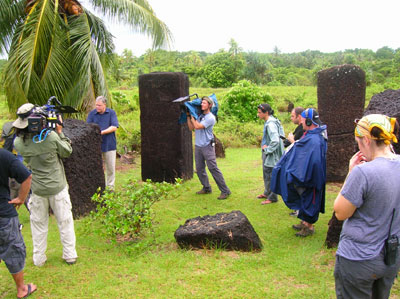 (Bone Detectives on location with Roll 'em)
There are more reasons to film in Palau then you can possibly imagine. With over 300 uninhabited rock islands, more than 100 pristine white sand beaches, 150 miles of dramatic coastline, and 36 weeks a year of accommodating weather, Palau is a location that translates directly to production value on the screen. Caves, jungles, coves, villages, mountains, rivers and waterfalls provide the Producer with any number of settings and choices. The unique landscapes and untouched tropical locales are perfect for any production seeking their own little piece of paradise.
In addition, the ease of production is unique for a location that appears so remote. Every land-based location in Palau is within a 1 hour drive from the center of town, and most island and water locations are less than 30 minutes by boat. The infrastructure in Palau ensures that your crew spends the maximum amount of time on location, not traveling.
The support services that Roll 'em Productions offers included experienced crew, production and office facilities, equipment rentals and more.
Not sure if Palau is right for you?
Contact us
to get all the information you need to make the right decision for your production.