LOCATIONS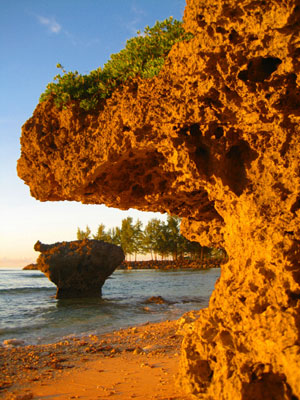 Palau is located in the Pacific near Guam and the Philippines. The Palau archipelago is comprised of over 300 limestone islands, yet only a few are inhabited by the country's population of 20,000, leaving the rest of the islands uninhabited and pristine. The most common way to get to Palau is via Continental Airlines through Guam or the Philippines. There are chartered flights that also arrive from Japan and Taiwan, as well as other locations.
Palau is blessed with a very temperate tropical climate, averaging a sunny 82F (27C) all year round. Though there is moderate rainfall year-round, the months between July and October are considered "rainy season". It is possible to film during rainy season at many locations. Typhoons in Palau are very rare, as the archipelago is located outside the typhoon zone.
While big in personality, Palau is small in size. The compact nature of the large variety of locations allows filmmakers to take advantage of the production options while always remaining in close contact with film services, infrastructure, and crew accommodations. Even the most remote locations-- whether a jungle waterfall, an archaeological site, or a quiet beach-- can be easily reached by maintained roads or accessible marine transport.
Roll 'em Productions has over five years of experience both filming in Palau and as Location Managers / Production Managers for international production teams. If a location exists on either land or sea, our staff can get you there.